How to Get a Regional Program Started
To start a program in your area, you must be supported by industry/community leaders, educational representatives and local NTMA chapter members. The key to establishing a successful program is the initial assessment of interest by local representatives or NRL program champions—program leaders, school representatives and business sponsors.

Hold your first meeting with the three critical leadership champions—the robotic program leader (the individual who will run and administer the NRL program); a school representative (one who will help involve schools in your area); and an industry sponsor (a member of a local business or association who can help communicate the vision for supporting a local robotics program in the community). NRL's recommendation, at this meeting, is to provide background on why there's a need to establish a robotics program, to identify the advantages and purpose of establishing an NRL program in your local community and to highlight the necessary steps to starting your program. It is recommended that one of our national representatives be a guest speaker to help provide the background and answer questions from the audience.
Moving Forward
After your first meeting or after a complete understanding of the key goals and objectives have been established for starting a NRL program, it is strongly recommended that a strategic planning session be held to establish the method, procedure schedule, and future activities needed to get started. There are three reasons for this:
Determine true community interest: In getting started you need to be aware that it will take a great deal of organizational skills in keeping the various parts needed to set up a local program. In starting the program you should invite key leaders who share your vision and responsibilities in getting started. This first strategy meeting is key to your program success.
Assess the local excitement: Sitting in on a planning session tends to get people very excited about what can be done and gets the group off to a great start.
Understand the effort required to establish the NRL program: Makes sure everyone is on the same page and working toward the same agreed upon goals.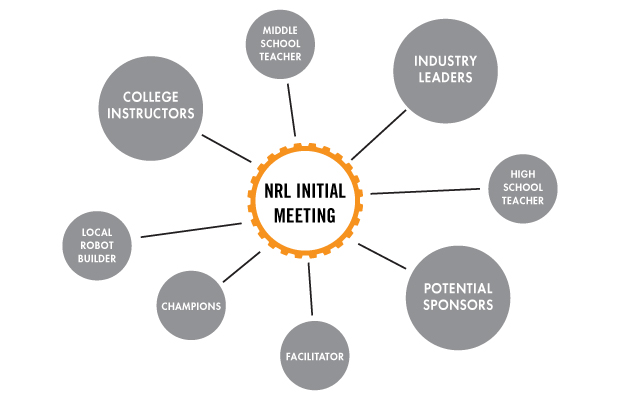 Who Should Attend

There should be no more than 25 and no fewer than 10
NTMA members
Industry leaders
Multiple college instructors
Multiple high school teachers
One local robot builder if possible
Facilitator (national rep) if possible
Potential sponsors
Champions (individual labeled above)
Pre-Meeting
Have a discussion with NRL representatives
Review the updates on the NRL website
Read the current newsletter to keep in touch with the latest changes
Assign each attendee to submit what they see their responsibilities, mission and goal for establishing the local program approximately a week prior to the initial meeting. The program leader or administrator assistant should collect and fashion three potential mission statements.
Meeting Agenda
Discuss and agree on why you are launching the program
Define mission and vision: start with the three written by the administrator
Discuss assets: While NRL has a national competition and many support services, it will be up to your local team to design a program that you can market to your target audience. The key here is start using what you have or can easily get and then build from there. Asking these questions can help your group understand what it has to work with:
How many individuals are committed to the success of this program?
What does each of them bring to the program? (Sample: Jennifer is a professor at the California University of Pennsylvania, her involvement has resulted in a place to host teacher training sessions as well as her becoming a teacher trainer and her students becoming bot builders. Also, she now our head safety coordinator.)
Do you have any relationship with state workforce development agencies or other key agencies?
Is your local industry willing to donate start-up funds? Are you able to fundraise?
Are companies willing to use in-kind services to support your program? (Sample: We needed a robot to use for school presentations; Automated EDM used their water jet to cut the parts we needed out of donated steel provided by Alro Steel.)
Do you have any local pro-bot builders? (These individuals are usually more than happy to help with running events and working with students.You can find out if there are any builders by contacting NRL at bpadnos@ntma.org
Do you have media contacts?

SWOT Analysis
Benefits for:

Teacher/Coach
Industry
State
Students
Parents

Building your strategy for implementation

Establish a schedule with deadlines
Create Committees and layout objectives for each. (Some committees to consider):
School Presentation Committee
Budget Committee
Competition Committee
Rules and Safety Committee
Marketing Committee
Executive Committee
Fundraising Committee
PR Committee
Website Committee
Teacher Training Committee
Once the NRL Program is ready to implement, it's important to establish a date for a local competition. It is at this point that your efforts will begin to take shape and you will discover areas that have not yet been highlighted. Remember, it will be fun, but stay nimble as you proceed in the most rewarding time of your life by helping, teaching, and creating an environment for learning the technical skills needed in the 21st Century.